RDR2 Legendary Animals
---
Red Dead Redemption 2 legendary animals are one of the best means of making some serious cash while out of missions and on your adventures during free roam. RDR2 legendary animals are worth significantly more than normal animals, as their name very obviously suggests they are. Their skins are worth hundreds of in-game dollars and are great means of earning some money, especially in the earlier chapters in which you need said money the most. If you're interested in finding these because you want to earn some money or for trophy hunting purposes, here is a RDR2 legendary animals map to help you.
All RDR2 Legendary Animals Location
---
Take a look at this Red Dead Redemption 2 legendary animals map to make it much easier to find each of them and use the rewards to earn a lot of cash in the game.
RDR2 Legendary Alligator: Near Lagras, to the South.
RDR2 Legendary Bear: O'Creagh's Run, to the north of the nearby lake.
RDR2 Legendary Beaver: Near Elysian Pool.
RDR2 Legendary Boar: Northwest part of Bluewater Marsh.
RDR2 Legendary Buck: Inside the Black Bone Forest
RDR2 Legendary Cougar: Gaptooth Ridge, New Austin.
RDR2 Legendary Coyote: Dewberry Creek, near the west end.
RDR2 Legendary Elk: Near Bacchus Station, towards the woods in the southeast.
RDR2 Legendary Fox: North of Rhodes, Lemoyne.
RDR2 Legendary Moose: In the far northeast of the entire game map.
RDR2 Legendary Panther: The legendary panther is the trickiest of Red Dead Redemption 2 legendary animals to find. That's because you need to complete 9 master hunt challenges to just unlock its hunt. After you've unlocked it, you'll be able to locate and hunt it near Bolger Gate, precisely inside the woods on the south side.
RDR2 Legendary Pronghorn: New Austin.
RDR2 Legendary Ram: To the east of Valentine, on the other side of the Dakota River.
RDR2 Legendary Tatanka Bison: Hennigan's Stead.
RDR2 Legendary White Bison: To the north of Lake Isabella.
RDR2 Legendary Wolf: Cotorra Springs.
That's about it for all the RDR2 legendary animals in the game. Use the above given list which features all of the legendary animals RDR2 in order to make all the hunts much easier for yourself.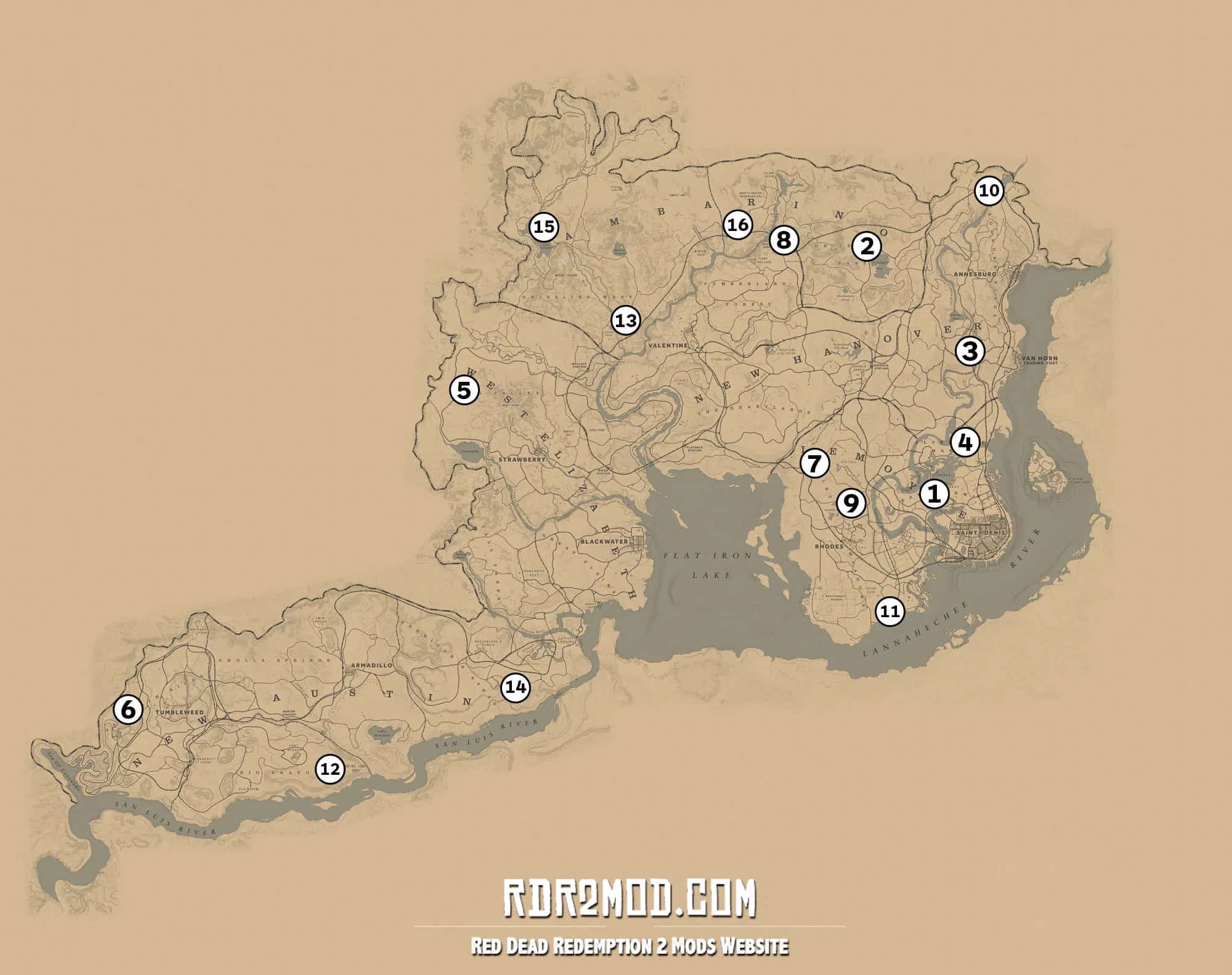 ---