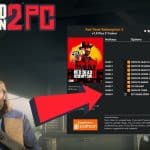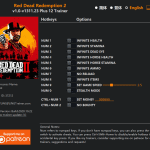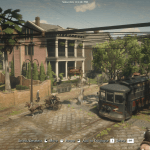 ---
Red Dead Redemption 2 Trainer by FLiNG
OPTIONS
Num 1 – Infinite Health
Num 2 – Infinite Stamina
Num 3 – Infinite Dead Eye
Num 4 – Infinite Horse Health
Num 5 – Infinite Horse Stamina
Num 6 – Infinite Ammo
Num 7 – No Reload
Num 8 – Infinite Items
Num 9 – Set the speed of the game
Num 0 – hidden mode
Ctrl + Num 1 – Set Money
Ctrl + Num 2 – no notes about
awards
The health / stamina / dead eye parameters are triggered when the values ​​are reduced (taking damage, using a dead eye, running, etc.). Please note that these parameters do not affect the basic values, but only affect the values ​​of the outer bar (for example, if your health bar is depleted, you will lose basic health and may be killed).
"Infinite Ammo" and "No Reload" are active when firing.
"Endless items" take effect when the number of items decreases, the number of items is set to the maximum number of stackable items.
Infinite Health cannot prevent instant death (falling off a cliff, QTE failure, headshot, etc.). Note: this does not affect the health of the core, you must have a little health on the health bar for it to work.
"Set Money" takes effect when money changes; "No reward" takes effect when the reward increases.
Hidden Mode: When activated, most people won't fight back and you won't be needed.
Instructions:
Copy all files from the archive to the root of the installed game.
Start the trainer first, then the game.
During the game, press the keys indicated in the trainer