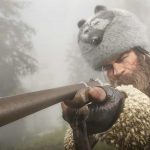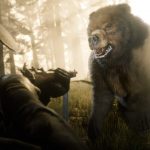 Red Dead 2 Online Update Adds New Hunting Challenge
---
Rockstar has released the next big update for Red Dead Redemption 2's online mode, Red Dead Online. The update is out now on both P4 and Xbox One, and it introduces a new challenge that involves hunting, as well as a Showdown mode, a cool raccoon hat, and more.
The new challenge is the Wild Animal Kills Challenge, and it's exactly what it sounds like. In the new free roam event, you face off against other hunters with the aim of bagging the biggest animals. Small animals are worth 1 point, medium are 2 points, and large are 3 points. As the match progresses, terrifying animals like wolves, cougars, and bears will appear, and you can earn bonus points for killing them. You cannot attack other human hunters in this new challenge.
The new Red Dead Online multiplayer mode, meanwhile, is called Head for the Hills. A Showdown mode, it sounds like a lot of fun. Here is the description:
"Players take turns making a last-ditch run across no-man's-land to their safe house, while opponents have only one objective: to hunt you down. Stake out the high ground, hide in the shadows or stalk your enemies out in the open, but don't let them get to safety."
Two more Showdown modes, Public Enemy and Sport of Kings, will be released over the next two weeks, and more details are coming soon, Rockstar said.
Also new in Red Dead Online with the update is a nice bonus of $50 RDO for completing the first Land of Opportunities mission, which is called Honor Among Horse Thieves. Players can get $75 RDO for beating the Kill Them, Each and Every One mission, while you can also earn 10 Gold bars for completing the Destroyed by Grief mission.
Additionally, Rockstar is giving all Red Dead Online players a care package that comes with:
5x Potent Miracle Tonic
5x Potent Snake Oil
5x Potent Health Cure
5x Potent Bitters
120x Express Revolver Ammo
You can pick up the package in your camp lockbox or through the post office.
Also new in Red Dead Online this week are a variety of new outfits, including the Flora Corseted Chemise and Paddon shirts, as well as the plaid cap, racoon hat, and shaffer chaps. A new emote, "How Dare You," is also now available. Finally, everyone who enables 2-Step Verification gets a special version of the raccoon hat; you can see it below. Players who enabled 2-Step Verification also get 10 Gold bars and $500,000 in cash for GTA Online.
Go to the Rockstar Newswire to see a full rundown of what's in the new Red Dead Online update.
Red Dead Redemption 2 has shipped 24 million copies, making it one of the most successful games ever released. The online mode recently left beta, and Rockstar has big plans to continue to support it with new content over time.