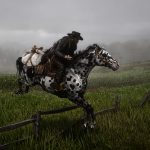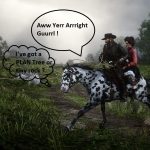 RDR2 chap 2 EZ START_Aww_Yerr_Arrright_Guurrl
---
Just another save file with tons of things unlocked for new confortable run in this amazing game :
So what do we have :
Minimum scenario mission done "startin in chap 2" in camp
About 25 000 $ for fun (more than enought for 2 lifes)
All special edition clothes (some look very cool)
Legend of the east outfit unlock
All Stachels available
Camp 100% upgrade with book items & cosmetics "all right Mr Pearson !" no need to worry about that
All cigarettes packs collection done. So you are ready for that train station guy to post him, just be reward.
Trapper 100% done (crafted, reinforced, all outfits etc) just go in your stach in camp & enjoy
Weapons unlock & unique weapons done (like knifes, hachets, throwing things, recipies, etc)
All talismans & Trinquets 100% done (legendary include) so no unique animals available now in this save.
Top 3 horses on stable (Arabian, Turkoman, and DLC horse) just waiting for you to upgrade and eat "stones or trees".
Full discovered map
No all unique items are unlock (like hats, helmets etc) to keep exploration of the map half preserved (just weapons needed in fact) so up to you to explore & enjoy riding.
How to install ? :
I dont get any responsabilities for data lost if you don't do things correctly. So PLZ save your own saves files on desktop before doing any copy & paste.
Just unzip & copy-paste this file in your C:\Users\Username\Documents\Rockstar Games\Red Dead Redemption 2\Profiles\numbers (like O3XD1337) or something this is a basis save file name SRDR30000.
Don't forget to copy your own saves files BEFORE in case of restoring or unsatisfaction with this save file.
This is the save i use personnaly like "new game +" avoid all the hard farming tasks & hard grinding.
hope you will enjoy and dont forget to endorse if you think its ok
have fun !!
All credits goes to there respectives authors R* and used tools for making this possible.