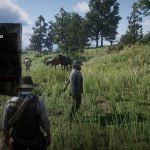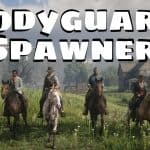 BodyguardSpawner
---
I know most trainers let you spawn bodyguards, I've made this feature for my AMJMTransport mod and just turned into a standalone mod in case someone wants it. Also, it has some features other spawners might not, like a revive mechanic or saving your bodyguards when you exit the game.
Use the hotkey to bring up the spawn menu at any time, 'Home' key by default.
Features:
– Spawn up to seven bodyguards, with customizable weapons and outfits.
– Spawnable Van Der Linde gang members.
– Revive mechanic: when they run out of health they won't immediately die, you have a short time to help them up.
Crouch next to them for the 'Help' prompt to come up.
– They'll be saved when you exit the game.
– Extra options in the ini file: Max bodyguard health, no instant death from headshots (turned on by default), no revive mechanic and custom menu key.
Known issues:
– The revive mechanic is incompatible with some mods that change NPC health. You can turn it off in the ini if you're experiencing issues.
You need Script Hook from Alexander Blade:
https://www.dev-c.com/rdr2/scripthookrdr2/